The Dashboard
JDM offer a suite of web-based software solution to assist the Aircraft operator, Jet Charter Broker and the lifestyle agency or licensed partner
Real time tools for a real-time environment
JDM offers the charter business a simple way to book private jets in today's rapidly changing travel industry. Providing you with all the tools to get the job done in a real-time environment. JDM offer various service to both the seller and buyer. Please select from the options below which sector your industry belongs to.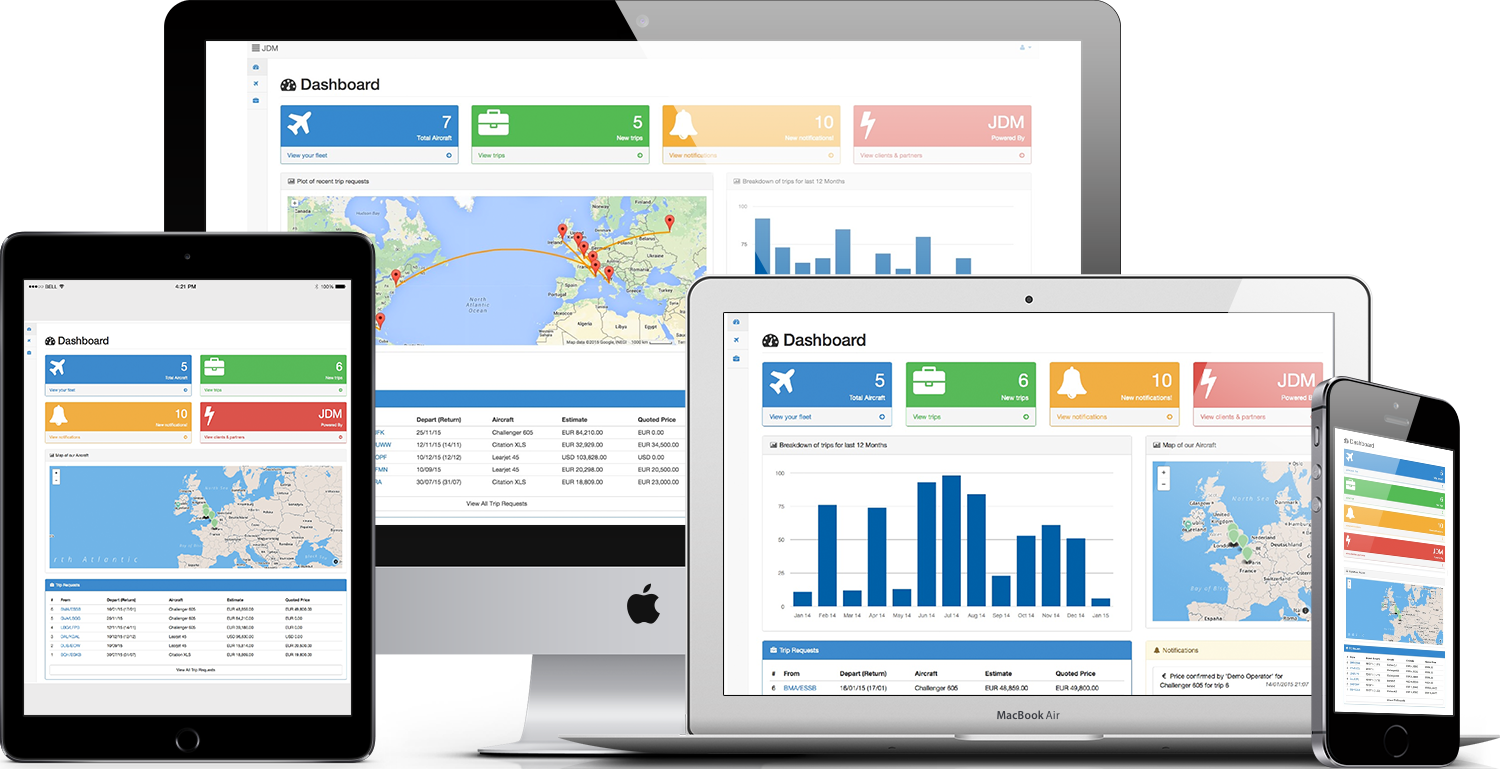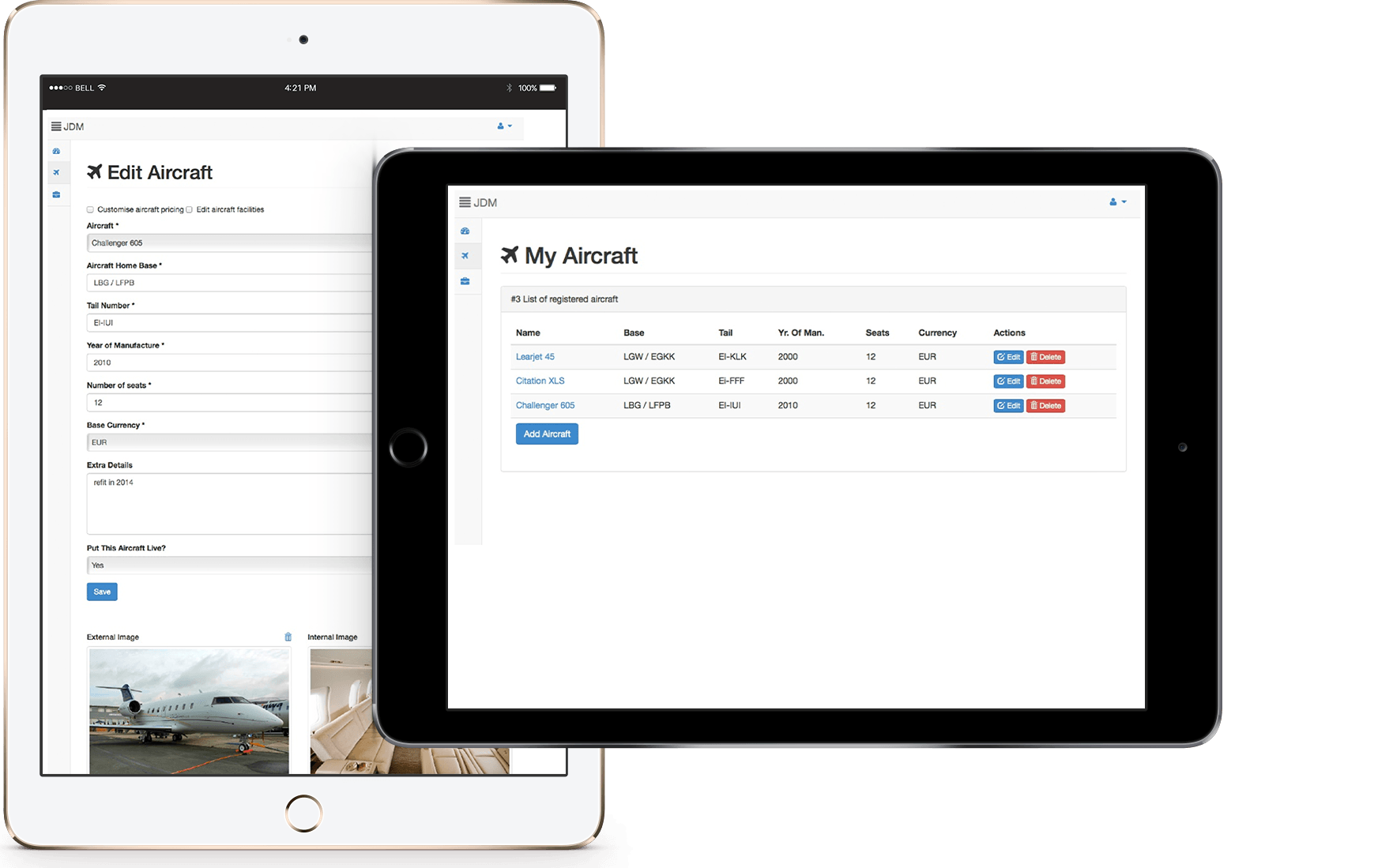 Manage Your Fleet
It's fast and simple to amend your existing fleet or add a new aircraft. You can also edit our standard industry charter hourly rates to your own pricing by expanding on "customize pricing". To add images and details on your aircraft just click on "Edit your aircraft details" and upload any images you wish, if you do not wish to upload images JDM will use stock images for the listed type.
Fully Intergrated Widget
The Trip box is a widget for your web page or for your affiliate and partners. It allows the traveler to search for aircraft based on their itinerary and see estimated prices.
The Trip Box allows your clients to :
Enter itinerary
See all available aircraft type, images and prices.
Select aircraft based on model, price and year.
Submit the request direct to you admin log in.
Trip Requests
This is where all trip request will be listed plus all previous. Clicking on the Quote button expands it, allowing you to price the requested aircraft, decline it or offer another from your fleet. The estimated price listed is based upon industry standards including your positioning costs from homebase. You can click to see how the algorithm is calculated.
Step 1. Receive Trip request notification.
Step 2. Quote or decline.
Step 3. Offer alternative aircraft from your fleet.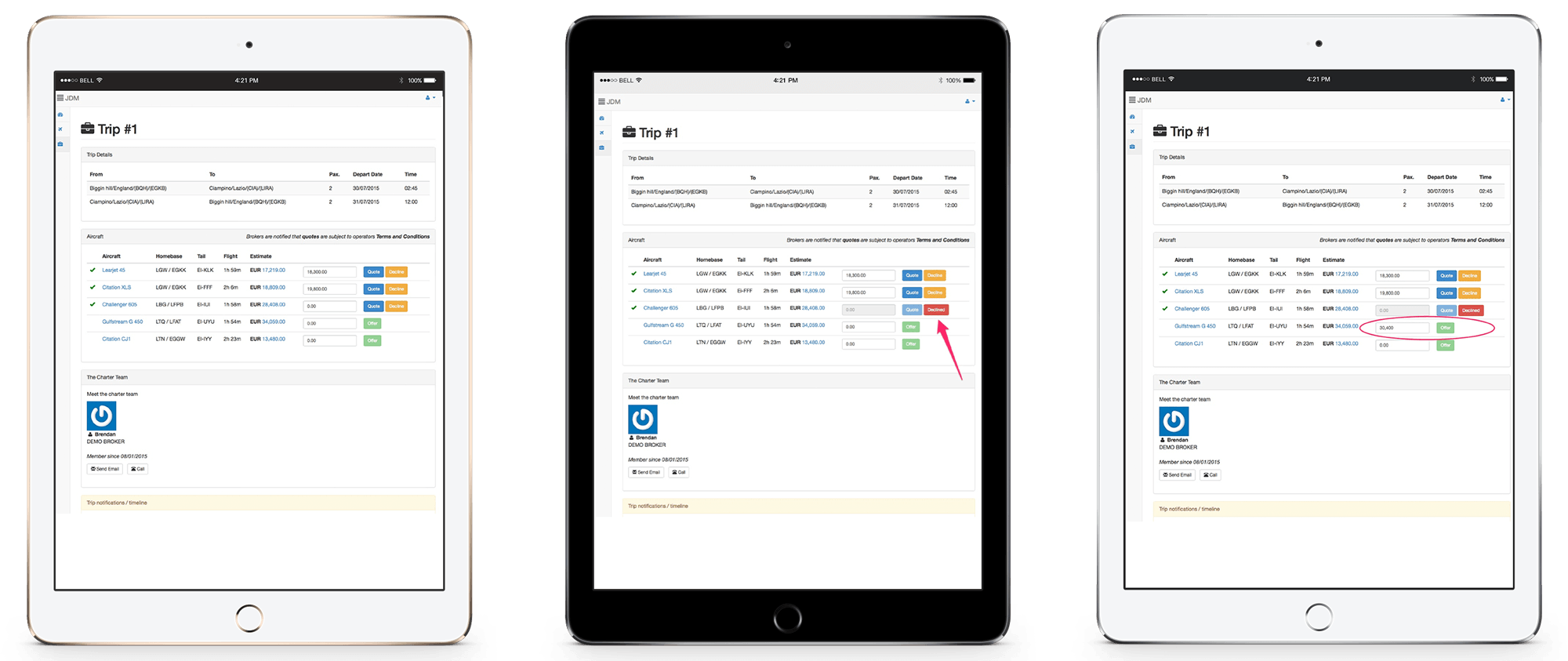 Sign up to JDM Systems
JDM systems offer all licensed operators the opportunity to list and amend your fleet details for FREE. We only permit our registered Brokers and Licensed Travel specialists access to the booking facilities on JDM, so your data is safe and secure. The JDM team spend many hours updating data on new aircraft from your fleet or changes in listed home base. However, we cannot guarantee to always provide accurate data therefore we need your help to update your fleet and as this service is free of charge you can only gain by way of receiving qualified charter requests. JDM do not permit the end client / traveler to submit their charter requests direct to the operator so as to avoid time wasting as we are aware your time is valuable.
Want to get started? Apply by completing this short form.
Oops! We could not locate your form.